| | | | |
| --- | --- | --- | --- |
| | Click to view "Teenagers" | | |
| | |
| --- | --- |
| This page contains strong language that some may find offensive. Viewer discretion is advised. | #@*?! |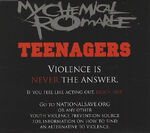 "Teenagers" is the fourth single and the eleventh track from My Chemical Romance's third studio album, The Black Parade. It is the third U.S. single from the album, but it is the fourth single released in the UK, the Philippines, Australia and Canada. This song is the band's twelfth overall single. It was made available for download for the Xbox 360's Guitar Hero II on August 15, 2007, along with "Famous Last Words" and "This Is How I Disappear," adding to their song shipped with the game, "Dead!"
Gerard Way is quoted as saying that he wrote the song after finding himself in a New York subway car full of high schoolers: "That was the first time I felt old...I was nervous and I was a target. I felt like I had become a parent figure or part of the problem."
About the relationship between the song and concerns about gun violence, Way has said the following:
"That song almost didn't fit on the record but it's a topic that's so important to our culture. It's about a really big problem in America where kids are killing kids. The only thing I learnt in high school is that people are very violent and territorial."
Single Track Listing
Version 1 (promotional CD)
Teenagers (radio edit) – 2:38
Version 2 (CD and 7" vinyl)
"Teenagers" – 2:41
"Dead!" (live from E-Werk in Berlin on October 14, 2006) – 3:16
Version 3 (7" vinyl)
"Teenagers" – 2:41
"Mama" (live from the National Indoor Arena in Birmingham on March 22, 2007) – 5:00
Version 4 (CD)
"Teenagers" – 2:41
"Dead!" (live at E-Werk in Berlin on October 14, 2006) – 3:16
"Mama" (live from the National Indoor Arena in Birmingham on March 22, 2007) – 5:0
Version 5 (digital download)
"Teenagers" – 2:41
"Teenagers" music video – 2:51
Video of "I Don't Love You" performed at Sessions@AOL – 3:57
Lyrics
[Verse 1]
They're gonna clean up your looks
With all the lies in the books
To make a citizen out of you
Because they sleep with a gun
And keep an eye on you, son
So they can watch all the things you do

Because the drugs never work
They're gonna give you a smirk
Cause they got methods of keeping you clean
They're gonna rip up your heads
Your aspirations to shreds
Another cog in the murder machine

[Chorus]
They said "all teenagers scare the living shit out of me
They could care less as long as someone'll bleed"
So darken your clothes or strike a violent pose
Maybe they'll leave you alone, but not me

[Verse 2]
The boys and girls in the clique
The awful names that they stick
You're never gonna fit in much, kid
But if you're troubled and hurt
What you got under your shirt
Will make them pay for the things that they did

[Chorus]
They said "all teenagers scare the living shit out of me
They could care less as long as someone'll bleed"
So darken your clothes or strike a violent pose
Maybe they'll leave you alone, but not me
Oh, yeah!

[Guitar Solo]

[Chorus]
They said "all teenagers scare the living shit out of me
They could care less as long as someone'll bleed"
So darken your clothes or strike a violent pose
Maybe they'll leave you alone, but not me
All together now!

[Chorus]
"Teenagers scare the living shit out of me
They could care less as long as someone'll bleed"
So darken your clothes or strike a violent pose
Maybe they'll leave you alone, but not me

[Chorus]
They said "all teenagers scare the living shit out of me
They could care less as long as someone'll bleed"
So darken your clothes or strike a violent pose
Maybe they'll leave you alone, but not me
Music Video